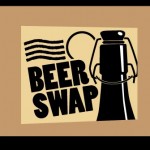 Alright then. We've done all the calling for swappers and now we have the final list. Instead of randomly drawing names we split the list into North and South and then further into bloggers and tweeters. We then hand-paired everyone up based on where you are from, what you do (blog/tweet) and where you want to drink from and in most cases it's interweaving, so you won't be doing a straight swap with just one other person (there are a couple of exceptions).
We are keeping the draw secret for now (because it's more fun that way!) and won't publish it whole, instead you will each get an email in the next day with the details of who you send to and their address (you won't know who is sending to you until you get the beer or unless they contact you). It looks like everyone can use Collect Plus, so this looks like the best option (it's £4 compared to four-times that with Royal Mail) : details will follow on the email from anyone who might not be familiar with their service.
One idea which has come up (thanks to Tania) is using a beerswap blog to collect everything together at the end and allow everyone to post what they got and what it was like. This is a good idea so if we can work out a good way of doing that then we will. Existing bloggers could just copy and paste from their blog or add a link across.
Here's the list of Beer Swappers, twitter name followed by a link to their website:
Markdredge – Visit website
chilliupnorth
edwards80 – Visit website
terryfen
steelrazor / hopzine – Visit website
RichardMackney – Visit website
reluctantscoop – Visit website
unclewilco – Visit website
tania_nexust
BGRTRob / hopzine – Visit website
petebrissenden – Visit website
SeanEClark – Visit website
woolpackdave – Visit website
WindsorBeerFest
ToonBeerFest – Visit website
the_beer_bear – Visit website
kristym809 – Visit website
danfgough
adamcroft – Visit website
mitcheladams / thatchersarms – Visit website
Loiscarter
fletchthemonkey / realalereviews Visit website
Samlanes /realalereviews – Visit website
Alan Walsh realalereviews – Visit website
AlexanderWright
awv / beerlens – Visit website
Simon beervikingrules – Visit website
Dylan beervikingrules – Visit website
beer_jomila
wine_scribbler – Visit website
terry_tibbs – or here
Darren blogobeer – Visit website
robsterowski – Visit website (thanks again for the awesome logo!)
Adam Bruderer Visit website
Neil Chantrell – Visit website
Phil Lowry – Visit website
Saintsandsinner – Visit website
Hasbean – Visit website
pattiston