If  you are reading this then the beers I sent have reached their destination.
This post is in place of the letter that was meant to go in with my beer swap parcel, I did write one I just forgot to put it in – along with a rather tasty bar of chilli chocolate i bought as a little extra, I guess I will just have to eat that, sorry Ed!
Finding local bottles was harder than I thought it would be, as I have mentioned before we have lots of breweries round here but not many bottle their beers, the ones that do are generally available in the supermarkets and I wanted to avoid those.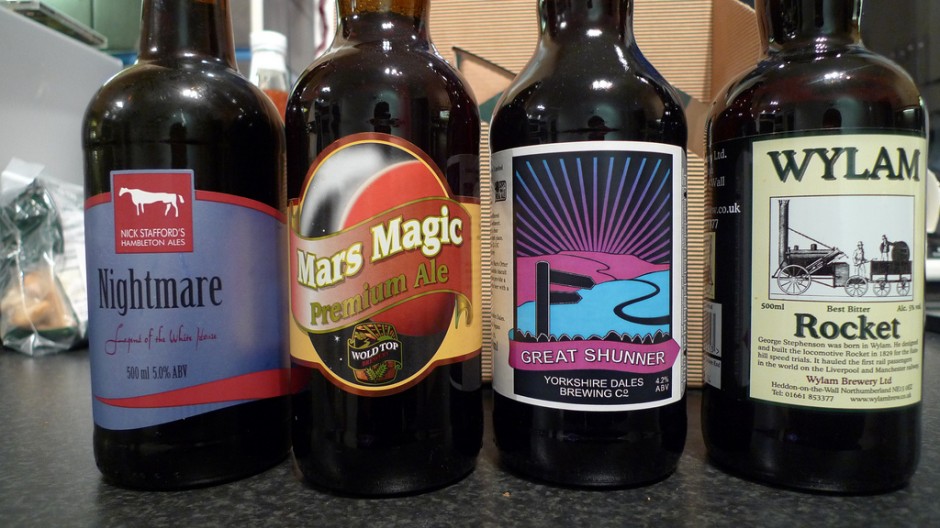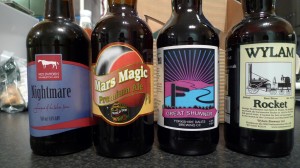 We also lack any really good bottle shops, luckily a couple of places do sell the odd local beer.
The first beer I chose was Wylam Rocket, this was also one I sent in the test pack, it's from more that 30 miles away but it's a beer close to my heart and one that is a beer festival staple round here. Surprisingly it was bought in a local Tesco who have started a little (2 or 3 bottles) local ale section.
Winner of the prestigious Tesco drinks Awards 2008 and SIBA bottled beer awards 2009 Wylam Rocket lives up to it's reputation. A pale copper traditional best bitter. Deceptively easy drinking with a fresh citrus and aromatic character from the Centennial hops. Good bitter finish to follow.
The second beer was Hambleton Nightmare, I am quite a big fan of Hambleton's beers in cask and bottle format and Nightmare is a cracking stout, I bought this one directly from the brewery (hence the old style label) I did want to include their Black Lightning but couldnt get hold of any after drinking all my supplies.
The bottled version of the classic Champion Winter Beer Of Britain 1997. A smooth, massively flavoured creamy drink, best served on the warm side allowing full appreciation of the roasted barley rearing out of this four malt brew.
The 3rd beer was a new brewery that I discovered on my hunt for the Beer Swap beers, The brewery in quesion was Yorkshire Dales Brewing Co, I got a few of their bottles and didn't come across one I didn't like, their lables also really stood out as they were nice and bright, although looking back, Askrigg Ale might have been slightly better but I couldn't get any more of that.
The bottle I ended up sending was Great Shunner ale, which is bottle conditioned and bottled by hand in the Yorkshire Dales.
A dark ale brewed with Maris Otter and a little crystal malt for a subtle biscuit flavour. The four hop varieties provide a fine balance and characterise the beer with a spicy citrus finish.
The final beer was Wold Top's Mars Magic
MARS MAGIC is a 4.6% A B V Premium Ale with a red glow reflecting the Dark Crystal malt with a hint of Roast Barley in the brew. A malty flavour combined with the subtle aroma of the wonderfully aromatic 'Progress' hops which are also used for bittering give a thoroughly warm feeling just right for driving out the winter chill
The beers were bought from Lewis and Cooper which is a local deli type shop (who also sell my favourite wasabi peas) they are a bit hit and miss for beers, sometimes they have lots others they hardly have any.
I did try lots of other beers but decided they just weren't good enough for the swap, I also struggled to get a couple of beers I wanted to send so hopefully I will be able to find them for the next round.
Fingers crossed Ed will enjoy the beers and the will offer a brief glimpse of what the breweries round here have to offer.