I'd been following news about the beer tickers film on twitter for a while and it seemed to be getting a bit of a following, so just before Christmas I decided to buy a copy on DVD, I watched it not long after and started writing this post, when doing a bit of house keeping on the site and on my drafts folder I found it almost complete so decided that I better get it finished and get it posted.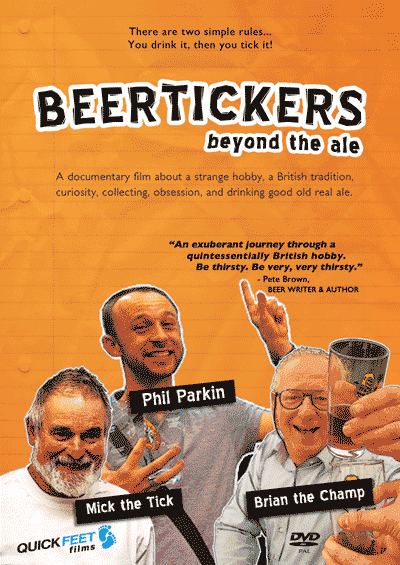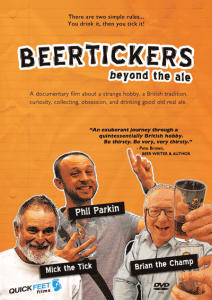 Beer Tickers beyond the ale is a film designed to show the good, bad and the ugly of the hobby, passion and tradition that is Beer ticking or Scooping.
It follows some of the more colourful characters in the ticking scene such as Mick the Tick, Brian Moore and Dave Unpronounceable. It's mainly set in and around the beer hub that is Sheffield but does venture around the country, following the journeys that the scoopers take.
As a film I really enjoyed it, mainly because it was fun to see people I've met and know along with a few legendary names that I've heard discussed in pubs and on the internet.
For the most part it's light hearted and shows the length's that some of the scoopers go to in order to tick off a beer, some people have said it does nothing but take the piss out of the scoopers but I didn't see it that way, I found it genuinely insightful and there were times where I noticed the ticker in my self. I will admit there was quite a lot that had me worried and confused, like simply having a sip of a beer just to say you've tried it, one thing that did make me wonder was that some people refused to drink the same beer twice no matter how good it was, I for one couldn't do this as there are plenty of beers I love and drink regularly along with some that I would love to be able to drink more often.
If you are  a beer lover then Beer Tickers Beyond the Ale is well worth a look, if you don't believe me check out Pete Brown's blog and review, which is much better than my attempt.
If you want to find our more you can check out the Beer Tickers website, facebook page or follow them on twitter.