I've made this a couple of times now and served it with both Stoemp and skinny fries (the photo is of the skinny fries and salad version), it's best done in the slow cooker but if you don't have one you can do it one the stove or in the oven. The stoemp can be pre made then re heated if you are short on time. If you are having a party then you could always cook this and my pork cooked in Kriek and have a Belgian themed night.
When we had it in Belgium it came with apple sauce, which I wasn't sure would work but it really does, the sweetness works suprisingly well with the beef and beer.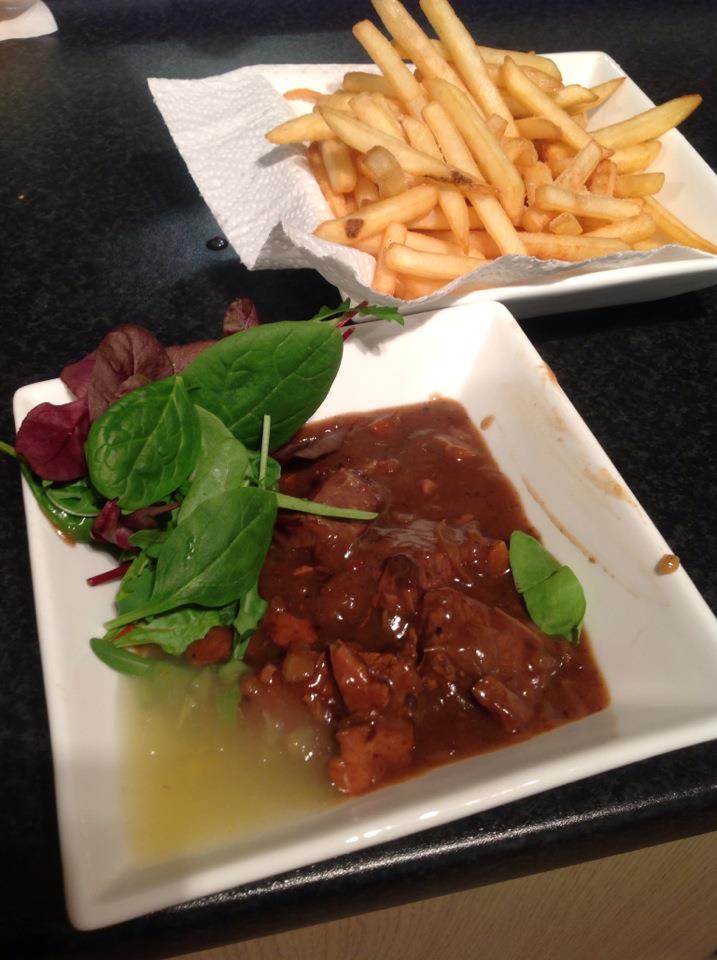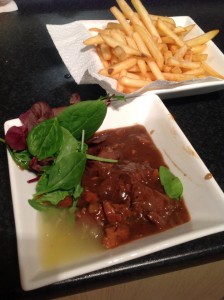 Ingredients
1.5kg beef brisket or shin beef cut into large chunks
2 tbsp plain flour, seasoned
2 tbsp olive oil oil
3 rashers of smokey bacon
500g red onion, chopped
handfull of chestnut mushrooms, sliced.
3 heaped tbsp redcurrant jelly or cranberry sauce
1 tbsp Woustershire sauce
2 tbsp cider vinegar
1 bouqet garni bag (or you could make your own)
1/2 tsp dried thyme
1 bay leaf
750ml dark brown belgian beer (I've done it with Chimay, Leffe brune and Sharp's Quadruple)
200ml  beef stock
Salt
Pepper
Corn flour and water for thickening (if required)
Brown sugar
For the Stoemp
800g Maris piper potato, chopped into even chunks
100g smoked bacon, cut into small chunks
1 small red onion, sliced
200g Brussel Sprouts
200g leeks, washed and sliced
Knob of butter
Salt
Pepper
Nutmeg
To serve
Pea shoots or salad…pea shoots work best.
Apple Sauce
Method
Toss the beef in the seasoned plain flour.
Heat a splash of olive oil in a large pan and fry the beef until browned.
Add the bacon to the pan followed by the onions and mushrooms.
Fry until the onions are soft
Add the beer to the pan and make sure you scrape all the sticky bits from the bottom of the pan.
Add the beef stock and other ingredients (apart from the corn flour)
Bring to the boil then transfer to your slow cooker or if you don't have one place in the oven for until the meat is soft
Just before serving if the gravy is a little thing, mix some corn flour with some water and then stir into the stew, cook for a few minutes to allow the starch to cook out of the flour.
If the stew is a little bitter add a touch of brown sugar and mix in.
For the Stoemp
Place the potato's in cold, salted water and bring the the boil, cook until the potatoes are soft, drain, then mash with a potato masher or a potato ricer, add a large knob of butter, season with salt and pepper and then set aside.
Bring some salted water to the boil and add your sprouts, cook until tender, then remove and run under cold water so they keep their colour. Slice the sprouts.
In a frying pan fry the bacon until crisp and then add the leeks and sprouts, cook until the leeks are soft.
Tip into the mashed potato and stir through. Season with salt and pepper and a touch of nutmeg.
Re heat the mash mixture on the stove or in the oven
Serve