Sorry it's taken so long to announce the winner of the wonderful mixed case from My Brewery Tap, we had way more entries to our cooking with beer competition than I ever imagined. There was everything from Pork cooked in beer to nutella and beer pancakes, some of the recipes were incredibly simple others required a bit more efford, all sounded delicious none the less. I was originally going to cook them all but that would take forever.
As a result we had a really hard time picking the winner, so the only fair way to do it was to put everyone's names into a hat and pull one person out at random.
That one lucky person was… Kathlene Belista with her Beer Xiao Long Bao which not only included beer in the recipe was paired with beer too.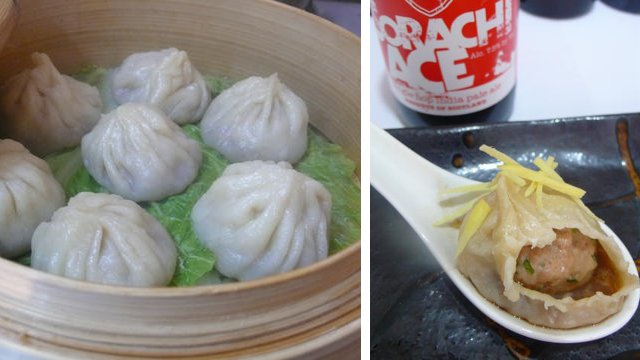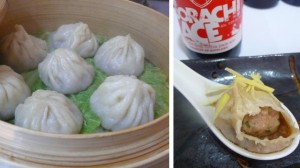 I've copied the recipe below and I will be cooking it very soon, I'll also post all of the entries on here over the next couple of weeks.
It looks like there's a lot of work involved but the results look and sound delicious, there are more photos and some useful tips on her blog which you can check out here.
Beer Xiao Long Bao
(Solid) Beer Soup
We have stock in the freezer on hand as we tend to make large batches of the stuff now and then. Adding a pig's trotter to a large stock will give it enough gelatin to set the stock for real home-made stock cubes (less messy when defrosted). It is probably when we started doing this more often I discovered the xiao long bao recipe as one of the uses the stock can go to.
Of course, if you don't make your own stock you can use the store-bought stuff, though I'd imagine it doesn't have a good intense flavour that you can get when home-made.
150ml Strong (5x reduced) chicken/trotter stock and 150ml water OR
300ml of shop chicken stock (the refrigerated section)
1 slice fresh ginger
200ml beer (Sorachi Ace from BrewDog)
1/2Tb agar agar OR
1Tb agar agar if not using strong stock/water mix
Method:
Heat the water and stock until warm, then add the ginger. Simmer for 2 minutes.
Add the beer, and then all the agar agar. Heat until simmering until the agar agar melts. To speed things up, you can whisk the soup to aid combining the agar agar
Place in a shallowish baking dish lined with cling wrap. Allow to set into a jelly then set aside (fridge)
This makes only half the amount of stock as the original recipe, so the other components may have a surplus than required for the soup.
Filling
Tweaked the traditional porky filling so it doesn't overwhelm the beer flavour in the stocky soup.
366g pork mince
184g prawn, minced
2 cloves of garlic, minced
1Tb fresh ginger, minced (I have a grater for this)
2Tb soy
2tsp caster sugar
13g minced spring (green/salad) onion – just the green parts, avoid white bits near the root)
Method:
You can chose the sensible or complicated methods:
Fast method: Combine all the ingredients. For the quantity of soup you will need only half of the total mince, so either half the quantity or double the soup component.
'Cube' method: Combine all but the green onion. Use a food processor to finely mince the meat into a more of a pasty consistency. Mix in the green onions last and set aside (fridge)
Dumpling wrappers
It is highly recommended that you do this from scratch, but there are suggestions to replace this with premade wrappers (rolls eyes).
As per instructions on Steamy Kitchen; I converted the American units to be roughly:
400g plain flour
177ml boiling hot water
60ml cold water
Sesame oil for rising
Method:
From the 400g of flour, reserve about 10% for dusting/adding-to-dough-when-too-wet
Pour in about a third of the hot water then stir with cooking chopsticks. Rinse (not literally) and repeat
When all the hot water has been used and the dough has taken in the hot water add the cold water. Mix in the water with the chopsticks until it gets too difficult
On a floured surface, knead the dough for about 8-10 minutes. The dough should be springy – if you make a slight poke into it it should spring up in a few seconds
Store in an oiled bowl and cover for 30 minutes. I ran out of cling wrap, so I used a kitchen towel
To see just how strong this dough gets, see Hiromasa Yamanaka at Jin Din Rou stretching the dough.
Shredded ginger
Method:
Peel the ginger with a vegetable peeler
Plane off thin sheets with the peeler (until you can't stands it no more)
Slice into thin strips with a knife
Black Vinegar dipping sauce
I don't have Chinese black vinegar at hand so I made a mix that incorporated more beer!
2Tb beer
1Tb balsamic vinegar
1tsp rice vinegar
1/2 sugar (to taste; I didn't add any but if the beer is too bitter then add as needed)
Construction
If you are not equiped with another pair of hands, I suggest to make small batches of wrappers at a time and then fill them. Otherwise, do as the pros and designate tasks to speed up the process.
1) Prepare the filling
If you intend to use the fast method just simply dice the solid stock and mix well into the filling.
If you were like me, the 'cube' method involves cutting the solid stock into cubes then cover each (or a lump of squares) with the mince filling. As handling the mince directly is sticky business, lightly oil you hands with sesame oil when doing this.
Refrigerate the mince (normal) or balls (cube) to be ready for the next stage.
The filling 'balls' final size for me was about 3cm (or slightly smaller) in diameter if you use the cube method.
2) Wrappers
You'll be stuck near the floured surface a while; ensure you have flour handy for dusting. I copied a method I saw on the interwebs, though I wish I was that fast..
Roll out all of the dough into a thick sausage, about 5cm in diameter
Segment the dough into 4 equalish parts. This is so you can handle smaller parts at a time
Return 3 segments to the bowl that it was resting in. Roll the last segment into a thinner 1.5-2cm diameter sausage. I was uncomfortable handing the dough quickly enough so I halved that again and dealt with an eighth at a time
Make rough 1.5×1.5 squares from the dough segment. Place these on the floured surface
For each wrapper, roll the rough segments into balls, then flatten on the floured surface. Use a 'hand' rolling pin or a pair of cooking chopsticks to roll the dough into a circle about 7.5cm in diameter
If you are not alone, you can speed things up by passing the completed wrappers to..
3) Dumpling making
Place the filling in the center (roughly a 3cm ball) and pleat the dumpling as shown in Steamy Kitchen (or YouTube – the pros are fast)
Place completed dumplings on a floured surface until batches are ready for..
) Steaming
Place water in a saucepan that fits a bamboo steamer. Set to the highest heat
While waiting for the water to boil place washed and size-trimmed Chinese cabbage OR other cabbage OR baking paper in the steamer levels
If using cabbage lining, place the steamer levels in place and let them steam for 2 minutes. Forgo the 2 minute steam if you are using paper
When the steamer is ready, place enough dumplings in each level (don't overcrowd and don't let them touch!) and steam for about 12 minutes (top tier). Steam the bottom level for another 5-8 (or shorter if rotating)
Serving and Eating
Serve hot with julienned strips of ginger and the dipping sauce. If you don't want to squirt yourself or others with the hot soup, read: Rasa Malaysia's tips. Basically the procedure is:
Carefully pick up a dumpling and dip into the sauce
Top with ginger if using
This is the crucial step: nibble a little of the dumpling skin. If you sense soup emerging, then slurp sensible amounts at a time
If the dumpling is cool enough or out of scalding soup then you can eat it safely!
Final Notes
I don't recommend the cube method as I found it to use far more mince filling than what the original recipe intended. I found this batch to be on the meaty side (but still tasty).
Pretty good for my first (but not last) batch of xiao long bao!
Leftovers
Since I used the amounts for 4 (American) cups of soup I had leftover wrapper dough and mince filling. I intend on seeing if gyoza can be made with the wrappers and mince: just add some shredded cabbage to the mince and proceed as normal!
Apart from dumplings, the mince looks awfully tempting to be a spring roll filling. Or "Lumpiang Hubad" ('naked' lumpia/spring rolls: referring to the lack of wrapper) perhaps? I have seen similar mince balls that are cooked in a soup and served with rice noodles.. Too little leftovers to try all of the above!