What is your Brewery name and where did it come from?
M & A : We are the Revolutions Brewing Company, which derives its name from a music theme. Revolutions in this instance refer to the revolutions made by turntables. Our beers take this theme further by only being brewed to three strengths : 3.3%, 4.5% and 7.8% – which reference the principal speeds at which vinyl records used to revolve.
What is your brewery capacity?
M & A – We are currently brewing at someone else's brewery which has a 7.5BBL brew length. We're brewing twice a month with them. When we have our own plant from late Spring we will have an 8BBL brew length and will then start to brew more frequently.
What is different about your brewery?
M & A – We've tried to set out to make beers that are a little different to the norm : whether that be resurrecting old beer styles or bringing in influences from around the world. We don't particularly want to be constrained by a relatively small number of beer styles and won't be trying to make "our version" of Tetley's, Landlord etc.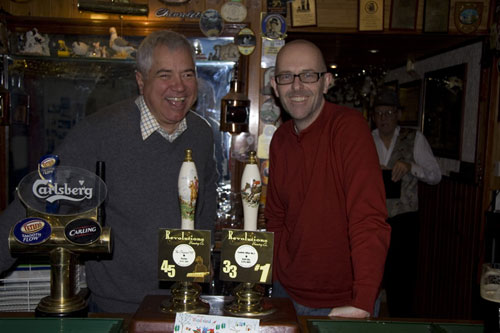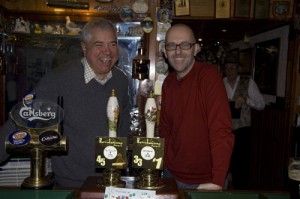 How long have you been brewing for?
A – As a hobbyist I have been brewing for nigh on 20 years. I put myself through a course at BrewLab a few years ago to get a feel for commercial brewing and to improve the quality of my home-brewed output.
M : I lived in the Middle Eastern state of Bahrain for 14 years, returning in 2008 : you're not allowed to brew there! Had a homebrew dabble when I got back, but Andrew is the main man at the moment in this regard.
M & A – Commercially we have been brewing as Revolutions for just a couple of months. We made two batches before Christmas and are about to start on our 2011 brew schedule.
How did you get into brewing?
A – As I said just now it was a long-term hobby that led me to want to brew commercially. My long-standing job prospects were looking a little uncertain and at the age of 42 (well let's face it 42 is the meaning of life and the universe) I decided to take the plunge.
M : via a set of happy coincidences and a deep and meaningful appreciation of the end product!
What beers do you brew regularly?
M & A – We have a portfolio of 6 regular beers. Three of these are dark beers (mild, porter and imperial stout) which we wanted to do for two reasons : 1) we like dark beers and 2) we wanted to allude to the black vinyl of records. The three other beers are a braun ale (so called because it has plenty of German ingredients), a US-style pale ale and a light session ale.
What special/seasonal beers do you brew?
M & A – We're probably going to limit ourselves to around 6-7 specials a year. These will be tied in with either a musical anniversary (iconic artist significant birthday or anniversary of a legendary album/single release) or we will do it to tie in with a new album release. We're keen to explore joint promotion opportunities with bands and have our first one lined up for March.
Where do you think the future of brewing lies?
M & A : It's an exciting time for craft brewing at the moment. Breweries such as Brew Dog are forcing people to reassess what they think of as 'real ale'. Sustainability issues are also creating demand for locally produced beers. The multinationals will continue to alienate large swathes of the drinking market. It's up to brewers to tap into that disaffection by making beers and more importantly marketing beers in a way that will appeal to these drinkers.
Do you bottle/keg/cask your beer?
M & A : We are aiming to bottle our first 45 special in March and from the middle of the year once we're established in our own place we'll look to bottle more regularly. Keg is something we're keen to explore too, as we will look to brew lager-style beers in the future.
What is your proudest moment in brewing?
M & A : Being relatively new to commercial brewing we're still very proud every time we get some positive feedback on our beer. We're pleased to say that after our first two brews we've had some wonderful feedback from publicans, punters and beer-writers. Just today someone said something nice about our beer and we're still harbouring the warm, fuzzy feeling!
Do you have any brewing regrets?
A : In some respects I wish I'd done this 3 years ago but then we wouldn't have had the theme we have now so actually I think things happen when they're meant to happen and moving to set up the brewery last year was the right thing to do.
M : I'm with Edith Piaf on this one.
What is your brewing ambition?
A : I want to grow the market for craft beer. I'm not motivated by being just another player what is a relatively congested market place. Sure, we need existing drinkers to like our beer but if we can in our own small way get new people (younger and/or female) trying craft ale I'll be happy.
M : Exactly, we want to nudge away at the boundaries of the craft beer scene. There are lots of people who have never tried good beer, why not? No-one need drink bland, tasteless mass-produced swill : but do they realize they have a choice? My ambition is to help open people's eyes, on the back of the brilliant craft brewers around the UK and world admittedly.
What was last beer you drank?
A : I think it was Ossett Excelsior at The Hop in Wakefield last week.
M : I've got a cask of our own beer, "Lookin' After No.1" tapped at home. I had a little last night. Before that it was a pint of Captain Oates Mild : a very tasty dark beer brewed by our friends at Brown Cow, just outside Selby.
What is your favourite hop and why?
A : I'm still experimenting with hops but of the ones I've used I'm rather fond of Hallertau Brewer's Gold : it has a lovely light spiciness.
M : That's like asking someone to pick their favourite child! I love them all in their own way.
What is your favourite beer/food combo?
A : There's nothing that I look to recreate on a regular basis but if there's one thing that makes me want to go back to that place it was eating crawfish washed down with Abita Amber Ale in New Orleans.
M : I don't have a specific favourite, other than to say the right beer, with the right food is one of life's sensual pleasures that people should seek out at every opportunity.
Do you have a Brewing hero/inspiration?
A : As I mentioned earlier I think that Brew Dog have thrown a rather large pebble into the pond and the resultant ripples in the blogging world have been fascinating to witness. Their overall approach of having a very strong brand and more importantly a personality is something that inspired us when we were developing our music theme. Other brewers that are doing great things are Dark Star, Thornbridge.
M : I agree with all of Andrew's comments. Additionally I'd say that anyone who follows their passion and has the cojones to actually do it is an inspiration to me. There are lots of brewers in Yorkshire we've yet to meet, many of whom are brewing great beers and seem to have great ideas. We'll be making some phone calls early in 2011!
If you could brew one collaboration beer with someone who would it be with and what would it be?
M & A : One of the big inspirations for our overall look and feel was Jack White of The White Stripes and what he has done with his record label Third Man Records. So I guess if we could get Jack to come along and have a brew day with us it would be our dreams fulfilled. As for the style of beer it would have to be black : maybe a dark lager of some sort.
Is there a beer you wish you had brewed?
M & A : Acorn's Gorlovka : we do love a dark beer and that is an absolutely amazing example!
How do you spend your time when you aren't brewing?
A : Listening to music, going to gigs, spot of gardening, bit of walking/hiking when I can.
M : Cricket in summer, music, dog-walking, movies and reading top-quality beer blogs.
If you could have one superhero superpower what would it be?
A : I'd love to be able to stop people whinging and moaning. We are a nation of whingers who seem to want someone else to sort their lives out for them. Get a grip : find your passion and follow it!
M : I'd like to be able to bowl leg-spin like Shane Warne : that's a superpower in my book.
Anything else you want to tell us?
We're keen to meet people and get involved. If anyone out there is interested in what we're doing get in touch, we'll be happy to hear from you!
Thanks to the guys for taking time out to do this, you can follow them on twitter here or read their blog here.