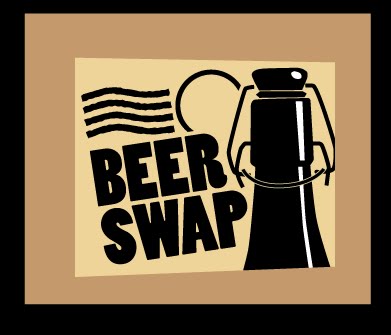 You may have already seen on twitter and on Mark Dredge's Website that there is something called The Big Blogger Beer Swap going on, if not you can read all about it on his website.
Myself and Mark from Real Ale Reviews decided to give it a "trial run" so i thought I would leave my experience on here.
The process so far (i've not got round to posting the package yet) has been a great laugh. The idea was to try and find 3 bottles from local breweries or breweries close to our hometown for under a tenner then send them to each other.  Anyway to cut a long story short it ended up as 4 bottles.
As soon as we arranged the swap i had an idea of which beers and breweries I wanted to get for Mark as i knew there was a couple he won't have tried and maybe hadn't heard of.
We lack any sort of decent bottle shop so going straight to the source was the best route for me, I won't say which breweries i have been to and which beers I have got him as it will spoil the surprise for Mark.
All I will say is that 2 bottles were purchased after a nice long walk on the moors, 1 of which I havent tried the other was purchased for its local feel (plus I like it) but it was maybe the hardest decision as there was so much choice, this choice lead to me having to re sample the beers in the brewery pub (leading to getting a little bit merry) before buying and im still not 100% sure i've made the right choice but if Mark then decides he wants to try more beers from there he can get them off their website or come and visit me and we will go for a trip out there.
One bottle was from the closest brewery to me that bottles their ales, it's an ale i've had and enjoyed, it won't blow Mark away but it's an ale he maybe isn't likely to find in a shop near him.
The final bottle is from near where my dad was born and is a fair bit north of me,  again it isn't a blow your socks off beer but it has sentimental reasons and was actually the first beer I ever had at a beer festival.
The next step is to get them in the post to Mark,  I am just in the process of sorting out the most efficient/cheapest way of doing it and working out how to pack the beers, luckily I have lots of bubble wrap and parcel boxes from beer I have been buying from the evil man at beermerchants.com who tempts me with his ales far too much.
Once that's done I will post my findings on here so that it might save some of the people who take up the beer swap a bit of work.
I will most certainly be joining in the full blown version and i think it will be a great way for people to try new ales and get to know their fellow bloggers, i have a few ideas which i will send to Mr Dredge, whether he uses them or not are up to him, the most important thing is that people have fun finding and drinking their beers.