The year is almost over and there becomes an inevitable point in which we take a look over our shoulders and evaluate how the past 12 months has been, before looking forward to the next. As Beer Swap rolls on (there's no hurry, just drink and be happy), Mark's Dredge (from pencil and spoon) and Fletcher (from real ale reviews) and I thought we'd announce another joint project: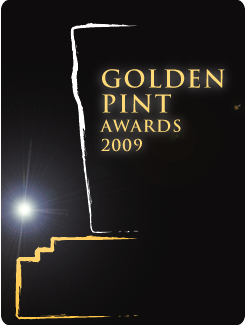 The Golden Pints: Beer Blogger Awards 2009.
We've come up with 20 categories to try and find the best of the best from 2009. All you need to do is copy the categories and give your answers in your own blog post. For anyone who doesn't blog, then feel free to email your answers to either of the Mark's or me and we will post them for you on our blogs.
It's just a bit of fun, celebrating all the good beer that we've had and where we've had it plus it'll be interesting to see how everyone's drinking year has been. If you aren't based in the UK then wherever it says 'UK' replace it with your country.
Here's the categories:
Best UK Draught Beer
Best UK Bottled Beer
Best Overseas Draught Beer
Best Overseas Bottled Beer
Best Overall Beer
Best Pumpclip or label
Best UK Brewery
Best Overseas Brewery
Pub/Bar of the Year
Beer Festival of the Year
Supermarket of the Year
Independent Retailer of the Year
Online Retailer of the Year
Best Beer Book
Best Beer Blog
Best Beer Twitterer
Best Online Interactive Brewery Presence
Food and Beer Pairing of the Year
Open Category: You Choose
Next Year I'd Most Like To…
For the Best Beer choices you can give an honourable mention to any runners-up, if you wish. The Online Interactive Brewery Presence should be the brewery who you think embraces social media in the best way (we're an online community so let's champion the best of the rest of the online beer community). The food and beer 'pairing' of the year could be a slap up dinner or it could be a bag of peanuts, whatever you thought was the best. The Open Category allows you to write your own category and answer (Bargain of the Year, Beer Drinker of the Year, Beer Moment of the Year, etc, anything you like). Next Year I'd Most Like To… is another open category, maybe you want to go to GBBF or GABF or Belgium, maybe you want to start homebrewing, maybe it's just drink more great beer, whatever you hope 2010 has in store. And use links too, so if you've written about a beer which you think is the Best UK Bottle then stick a link to your blog on it.
Let's get them all published by the end of 2009 so we can start a fresh on the 1st January and look forward to the beer delights that 2010 has to offer.
Here's to 2009 and the beer that we've enjoyed the most!
PS All of the words above were written by Mr Dredge, I decided not to change them because after all, he is an award winning beer writer….