The 2009 and 2010 Golden Pint awards we're a laugh and seemed to go down well so here's this years list. It couldn't be simpler, just fill in your answers to the categories below. You can do this in the comments on someone's blog post, write them in your own blog or email them to Mark or me and we'll post them for you. Do it anytime between now and New Year's Eve.
Feel free to do a runner-up and a winner for each category (or some honourable mentions) and link to blog posts if you've written about winners before. For the open category you can choose whatever you want; it could be bargain of the year, night out of the year, barman of the year, cooking lager of the year, best beer photo, worst beer, anything you want. If there are any categories that you don't want to give a winner for then just skip it.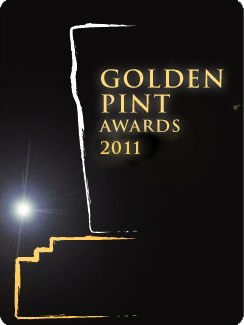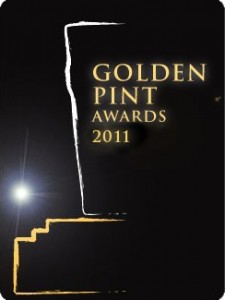 It's a bit of fun to see out the end of 2010 with a few nominations of what's been the best of beer from the previous year.
Best UK Draught (Cask or Keg) Beer
Best UK Bottled or Canned Beer
Best Overseas Draught Beer
Best Overseas Bottled or Canned Beer
Best Overall Beer
Best Pumpclip or Label
Best UK Brewery
Best Overseas Brewery
Pub/Bar of the Year
Beer Festival of the Year
Supermarket of the Year
Independent Retailer of the Year
Online Retailer of the Year
Best Beer Book or Magazine
Best Beer Blog or Website
Best Beer Twitterer
Best Online Brewery presence
Food and Beer Pairing of the Year
In 2012 I'd Most Like To…
Open Category: You Choose
There you have it, get thinking!!
Big thanks to Robsterowski for doing the logo again.