This was meant to be similar to my Thornbridge Jaipur post, in that I wanted to compare cask Halcyon to bottled Halcyon, I was all set for the battle but due to Beer Festival Fail, I didn't get chance to try the cask Halcyon.
As it happens Beer merchants recently reduced some bottles of Halcyon to £1.50 (instead of nearly £4) as they were nearing their recommended drink by date so I decided as the first bottle had blown me away to order some more and see if I still felt the same about the beer months after I first had it, I was hoping I would as I'd just ordered 12 bottles.
Halcyon is a 7.7% Imperial IPA , the name Halcyon is a term that originates from the Greek myth of Alcyone, is used most often to mean golden or marked by peace and prosperity. (well according to Wiki anyway), It is brewed by Thornbridge in Derbyshire, who make some pretty awesome beers. Halcyon is "green hopped"  this means that the freshest most succulent hops have been used, not the usual dried hops that are usually used. This allows the guys over at Thornbridge to get the maximum amount of flavour out of the hops.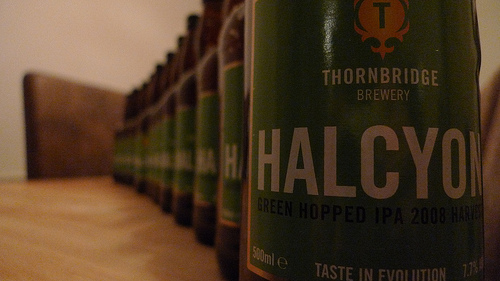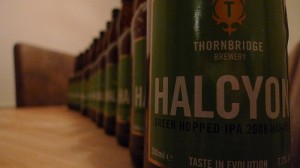 I remember the first time I had this beer, it was like the first time I crossed Striding Edge in the Lake District,  it completely blew me away!!
Halcyon pours with a lovely golden amber glow, the hop haze, makes it glow like someone has dropped a lightbulb in the middle, it looks almost mystical.
The aromas are of huge hops, grass and lovely citrus notes, there is also a little bit of sweetness there but I couldn't put my finger on it.
Neither the amazing colour or the smell can prepare you for what happens when you first taste it, It's like something from a classic batman cartoon, you know the ones where all those fantastic words pop up in little bubbles, pow, whack, fab, fizz and bang.
The predominant flavour is a big whack of hoppiness with a really well balanced bitterness, a hint of malt and sweetness, this makes it instantly drinkable for a beer knocking on for 8%, I also got a little bit of pine in there but I was told I was being silly.
It's quite light and not too fizzy, there is just enough fizz to give a lovely foamy off white head which lasts nearly as well as the flavours in your mouth, they last for ages, bouncing around your mouth and fizzing the side of your tongue.
Now the question everyone asks – which would I choose out of Jaipur and Halcyon  – It's not an easy question to answer as both are great, but for me Halcyon wins the day, it just wowed me more than Jaipur and I think it is better balanced and has a touch more flavour, plus the colour is just mesmerising.
This is truly an awesome beer, I am so glad I managed to get hold of so many bottles at such a great price, It goes some way to healing the wounds of missing out on the cask version at the beer festival, So Thornbrige, yet again I salute you!