The World Cup is now over, England failed once again and the soaps are back on TV, luckily we still have the posts from World Cup Beer Sweepstake to read through.
The level of participation was way greater than we expected and 64 of you signed up, as were the generous donations of prizes from Mybrewerytap, Ales by Mail, Adnams Brewery and Highland Brewing Company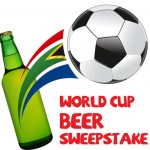 The winners will be announced (officially) and prizes sent when Mark returns from his jollies, in the meantime here is a list of all of the blog posts and entries.
Apologies if yours is missing but twitter search wont let me go back far enough. If your's is missing or you know of a blog that is missing then please let me know.
You can also follow most of the chat on twitter by using the #Wcbeersweep has tag.