Timothy Taylor's Landlord is possibly one of most well known beers from Yorkshire and has been around since the year dot, It also happens to be one of my favourite beers and one of those beers that I can't decide if I prefer it on cask or in bottles.
Last night we went to Vista Mar in Saltburn for their steak night, I wasn't sure what to expect beer wise as I hadn't been before and Emily didn't notice what beers they had on when she was in there last week (she needs more lessons on beer spotting) So I was pleasantly surprised when amongst the mass produced big brand pumps, I noticed a Timothy Taylor Landlord beer mat stuck to the front of one of the pumps. Nice one i thought to my self.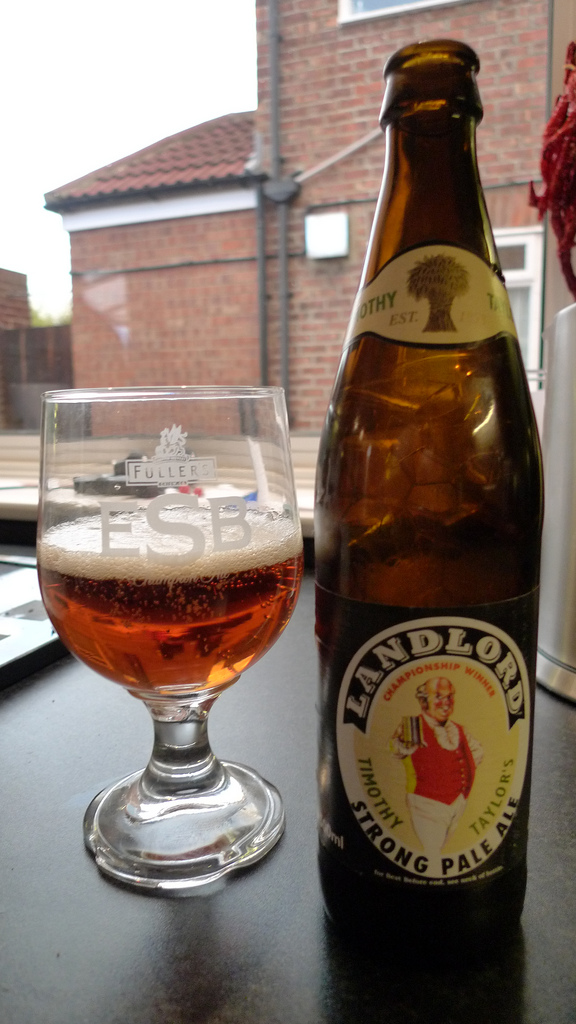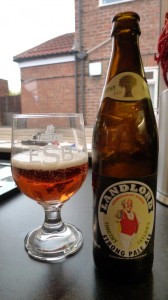 As part of the steak deal you get a bottle of wine,  now I had set eyes on the Landlord I wasn't really interested in the wine so when the waitress asked if we'd like some drinks I promptly ordered a pint of Landlord, promising Emily it would just be the one and I would help her drink the wine….this turned out to be a bit of a lie – I did help her drink the wine but I also had two more pints of it as did my mate that we were with.
The beer soon arrived and it looked a cracker, lovely deep gold bordering on amber, a lovely thick head, not only did it look delicious it smelt delicious too, nothing really strong just subtle hints of hops, malt and a little bit of fruitiness, which doesn't really prepare you for the most amazing flavours,It's malty, zesty, hoppy and a little bit fruity here and there, the lasting hop tingle and bitterness at the end is spicy and delicious.  It feels creamy, thick  in your mouth and above all very smooth and mega drinkable.
I've looked at my notes and I have written exactly the same about the bottled version and drank a few weeks back and they were almost exactly the same as the cask version, the one difference being that the bottled versions head maybe wasn't as creamy, but then you would kind of expect that.
It's not a complex beer and it's not a big hitter in terms of hops but in my opinion it is one of the best and most drinkable ales you can get today, whether it be in bottle or cask.
If I'm honest I am pretty surprised that Landlord didn't make it into the 50 best beers in the recent Independent article – i must remember to ask @zakavery, why? Although to be fair to Zak and those that he complied the list (a great list it is too) It's bloomin hard to narrow all the beers down into some sort of comprehensive list, you always end up leaving out beers and everyone has an opinion on what should be in there.
Either way I really do suggest you try this beer whether it be on cask or in bottles (or both), try it with steak, fish and chips or pie of your choice and you cant go wrong. You can find more information about it here
Ps The steak was prety amazing too, so good in fact we have booked to go back on Thursday while the girls are away with work.